Hotels
3 all-inclusive resorts on Maui
Perfect spots in each of the island's most iconic areas offering everything you need for a tropical getaway.
Hawaii's second largest island has long been its most popular destination for tourists from the mainland United States and Europe.
It's easy to see why. Maui is home to some of the finest tropical resorts in the world. And with its four different microclimate regions, the island offer visitors the choice of accommodations near serene beaches, surreal mountains, happening nightlife or breathtaking jungles.
As a result, deciding on the perfect Maui resort for your trip can seem a little overwhelming. Most of the resorts are located in one of three locations: the southern shore near Kihei, the west side surrounding Lahaina or the remote backside along the road to Hana.
Whether you're into hiking volcanic mountains, snorkeling with exotic fish and turtle species, or just chilling with a pina colada on white sand beach, we'll point you toward the top all inclusive resort in the location that's best for you.
The west side of Maui is home to Lahaina, a more historic town than Kihei that's a favorite destination for rock stars and big wave surfers alike. Follow Route 30 half an hour north of Lahaina and you'll find yourself driving along remote jungle cliffs that overlook the island's wildest coastline. You'll pass through locations straight out of Jurassic Park, tiny hut villages and some of Maui's most famous surf spots, including Jaws - the largest rideable wave on the planet!
Situated between Lahaina and this stunning wilderness is the Montage Kapalua Bay, a 24-acre five-star resort located on the relatively unpopulated and crescent shaped Kapalua Beach.
Kapalua golf course, an annual stop on the PGA tour, is located in the resort's backyard. A short drive away is the Nakalele blowhole, a lava formation that fires fountains of whitewater up to 100-feet high.
Accommodations include traditional hotel rooms, condos and ultra luxurious cabanas, all of which face the ocean. Guests will have their pick of three oceanside restaurants, as well as a private dining cabana with a personal chef. Add to the mix a luxury spa, market featuring handmade local crafts, ukulele and lei making lessons, guided hikes, and well...need we say more?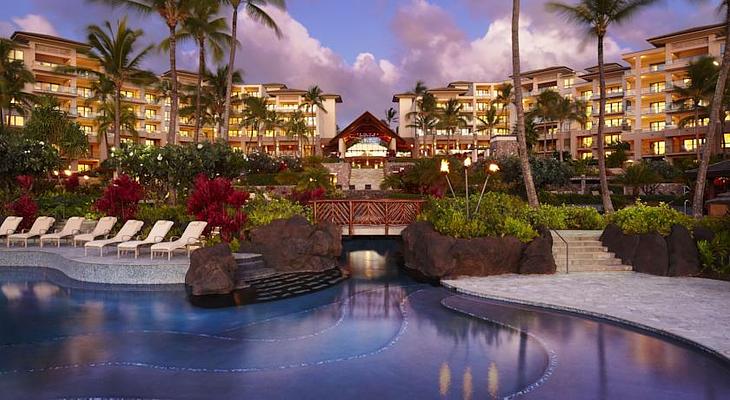 The three-hour drive from the airport might be too daunting for some, but there's a very good reason celebrities flock in droves to Maui's isolated eastside. The mystical little town of Hana feels like the capital of another planet, one lush with tropical jungle fauna, jaw dropping mountain geography and volcanic beaches populated by wild horses.
In the heart of town, yet seemingly thousands of miles from civilization, sits Travaasa Hana, easily the most unique resort on Maui.
If it's peace you're seeking, you'll find it in Travaasa's elaborately decorated suites and private cottages - none of which contain clocks or televisions.
The lack of electronics won't be a problem, however. You'll be amply entertained by the resort's private nature walks and horse rides along the rolling Hana coastline, luxury spa and fitness amenities, guided canoe trips, snorkeling opportunities and paddleboarding lessons. Throw in world-class dining at the Preserve Kitchen, a regular lineup of hula shows and live Hawaiian music, and you're likely to count yourself among Travaasa's many regularly returning guests.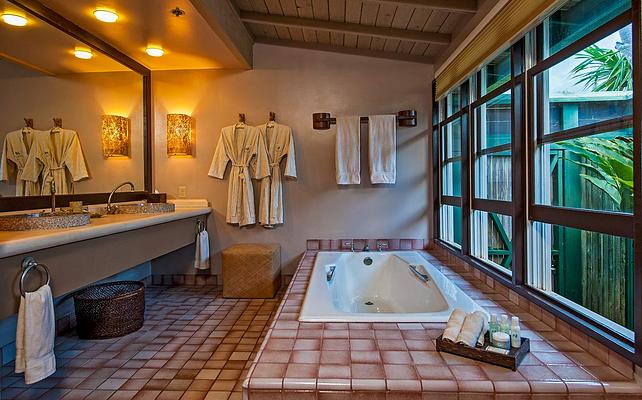 The highest concentration of resorts are located on Maui's southern shore, famous for its ideal tropical weather, white sand beaches and lava fields, as well as the high concentration of bars and restaurants in the funky surf town of Kihei.
Covering 40 acres along the area's most gorgeous beach, this Waldorf-Astoria resort is the region's crown jewel, providing the archetypal Hawaiian luxury experience.
Guests can choose from a mix of traditional yet spacious hotel rooms and deluxe private bungalows - all of which feature views of either the Pacific or the towering green mountains to the east.
All comers will enjoy the resort's the nine swimming pools, lazy river, outdoor shopping mall, eleven tennis courts, day spa and wide range of dining options on the premises.
Those seeking adventure will find it right outside their door. Grand Wailea backs up to three championship golf courses. Free scuba lessons are included with your accommodation. And on the resort's private beach, guests can rent boogie boards, paddle boards, kayaks and snorkeling gear.
Grand Wailea is so huge that many guests never venture beyond its perimeters. However, you should definitely consider a day trip to some of the nearby natural splendors. A ten minute drive will get you to Makena State Park, a secluded beach beloved by snorkeling fanatics the world over. Another fifteen minutes south and you're at the the incredible lava fields in La Perouse Bay, where you can explore the ruins of ancient Hawaiian architecture. Both locations offer some of the best sunset opportunities anywhere in the world.