Sublime white sand beaches, astonishing marine life, beautiful hotels, and dreamy spa experiences. These are some of the reasons why we've chosen the Maldives as our Best Destination in Asia for 2021. This fragile archipelago also has a growing number of sustainable resorts and pioneering green initiatives, so you can minimise your impact on the earth during your stay.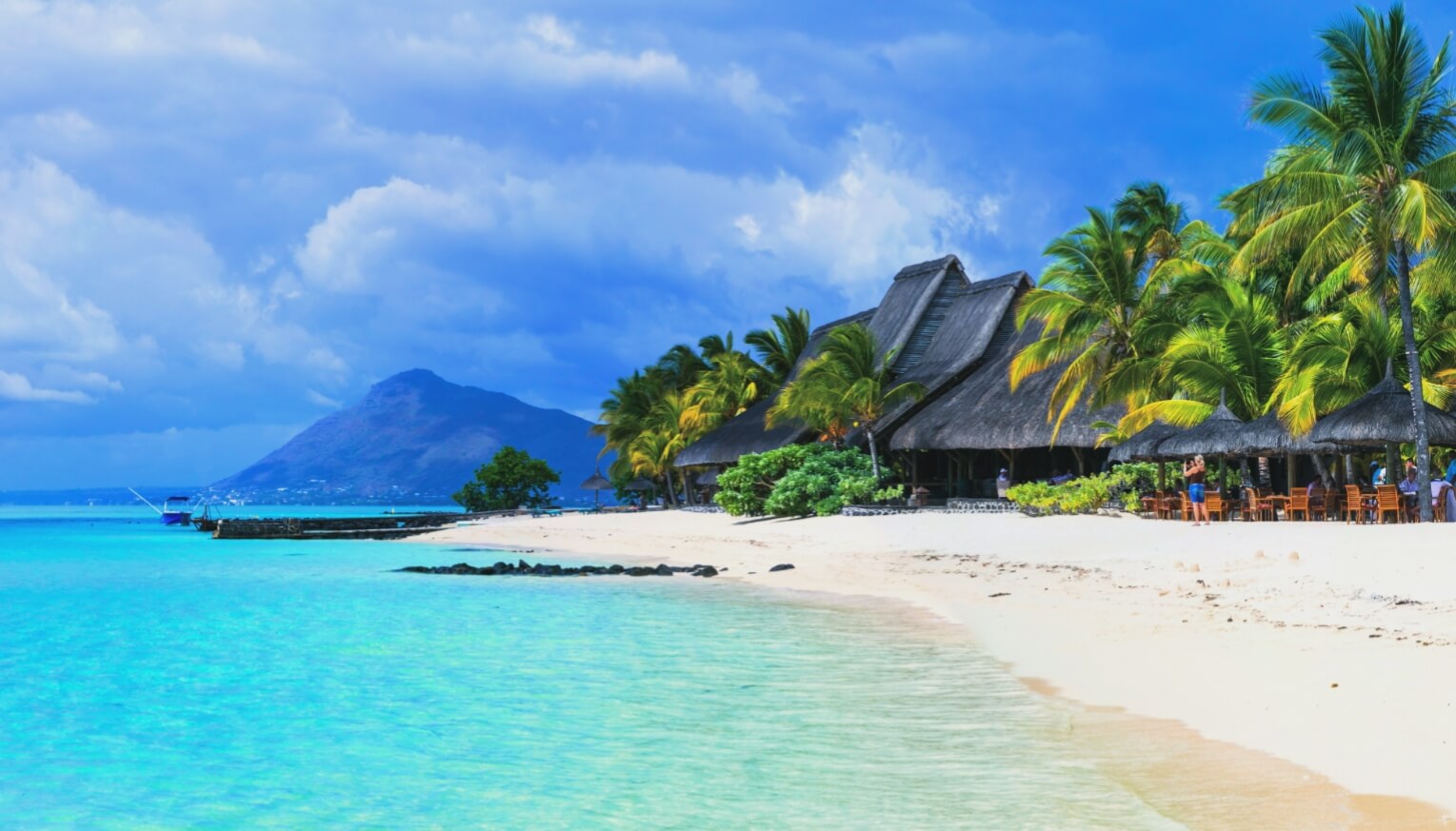 Last year, the Maldives was named World's Leading Travel Destination at the World Travel Awards — testament to just how popular this island destination is with travelers everywhere. There are 26 atolls, fringed by lagoons, reefs and farus (tiny atolls). Many resorts, along with capital city Malé are located in North Malé Atoll. Baa Atoll is a UNESCO Biosphere Reserve, with seas full of manta rays and whale sharks. Altogether, the islands are home to more than 100 resorts, many of them ultra-luxurious — and expensive.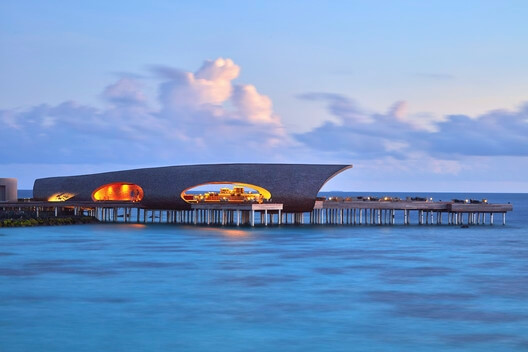 The Whale Bar at St Regis Maldives Vommuli Resort.
Wherever you stay, you can expect to dive and snorkel in warm water teeming with tropical fish, rejuvenate in beautiful spas, and gaze at the stars in the clearest night skies in the world. Many once in-a-lifetime experiences can be had, from dining under the sea, to swimming while bioluminescent organisms glow all along the shoreline.
Something else special about the Maldives is the imaginatively designed resorts. With winding boardwalks leading to leafy hideaways built from wood, stone, thatch, there's no ugly architecture here. At Soneva Jani 81 in Noonu Atoll, villas have enchanting features; retractable roofs so you can see the stars, water slides, and lookout towers.
At the Waldorf Astoria Maldives Ithaafushi 75 you can dine in private treetop pods. At Conrad Maldives Rangali Island 85 you can sleep under the sea with fish swimming all around. Perched out in the ocean, the whale-shaped bar at The St. Regis Maldives Vommuli Resort 79 is another cool piece of resort design.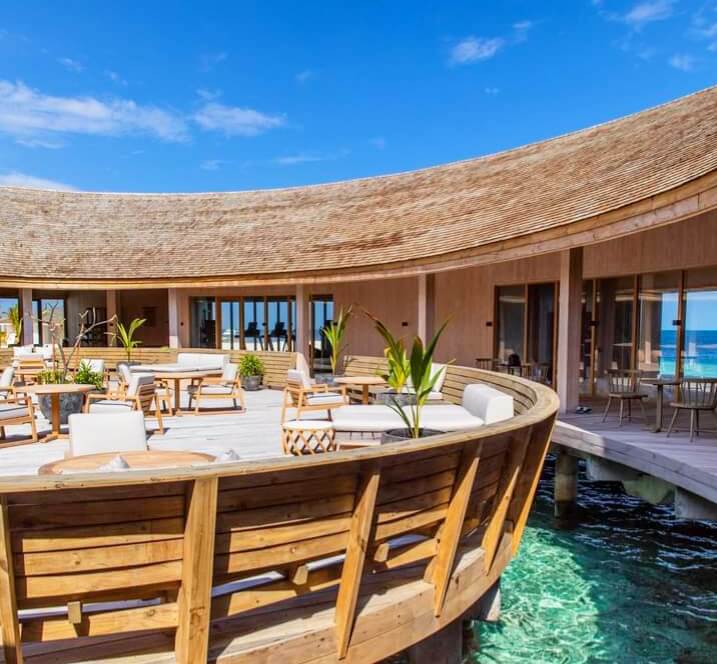 This year sees the opening of the Ritz Carlton on North Malé Atoll, with six restaurants, two bars and secluded villas with private beaches. Also new is Patina Maldives which has a sustainable ethos and biophilic design full of renewable materials and natural light. Kagi Maldives a 50-villa wellness resort offering retreats and spa breaks, opened at the end of last year.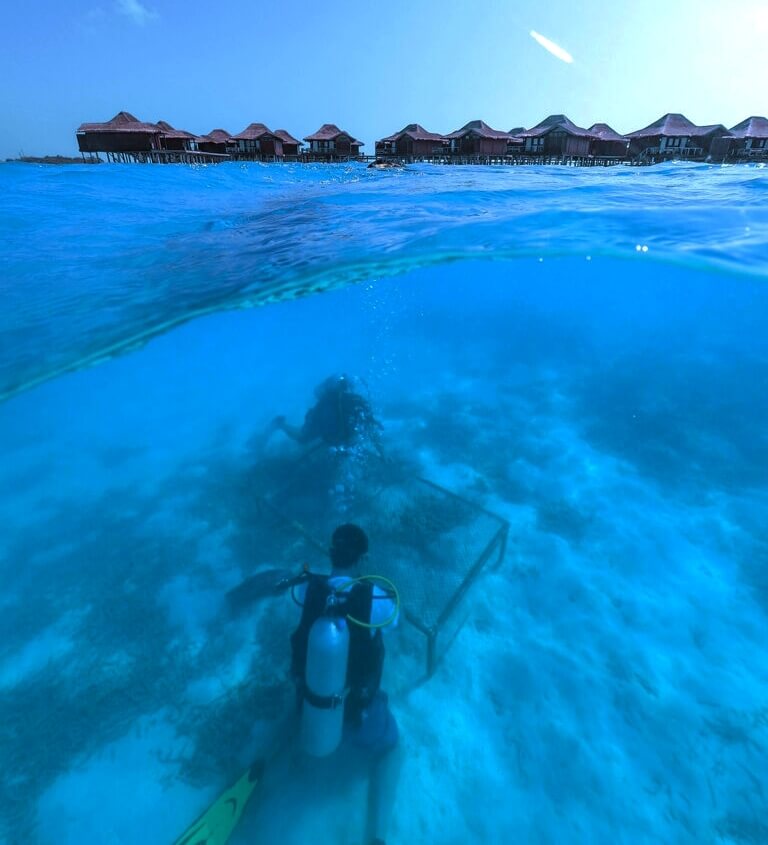 The Maldives faces many challenges to its unique environment because of climate change. 80 percent of land is less than one metre above sea level, meaning there are real risks from rising sea levels. Between 2014 and 2017, a large number of the island's reefs were damaged during a disastrous worldwide bleaching event.
In 2020, the country was ranked a dismal 127 (out of 180) in the Environmental Performance Index, which uses data to rate countries on their environmental health. There are record levels of microplastics, and continued resort expansion — with 11 opening this year alone — threatens marine life and the stability of reefs.
Some Maldivian resorts have always worried about these problems. Anantara was one of the first brands to protect coral reefs in the Maldives, creating coral nurseries as far back as 2010. As a result of reef restoration projects, coral at Anantara Dhigu Maldives Resort 78 is now growing back, and is up to 1000 times larger than when projects there began.
Soneva has been pioneering sustainability in the Maldives for 25 years, leading the way in banning plastic, using glass-bottled drinking water and reusing waste. Their chic eco resort Soneva Fushi 88 has zero carbon emissions, recycles 90 percent of waste and makes and sells tonnes of charcoal and coconut oil each year.
Gili Lankanfushi 85 in North Malé Atoll is a luxury resort with a laid-back, eco philosophy. Their organic garden grows more than 20 different crops used in their restaurants. Food waste is recycled using mechanical composters. There's also new Kudadoo, an ultra-luxurious all inclusive resort in Lhaviyani Atoll, which opened in 2019 and is fully solar powered and plastic free.
Many eco programs at resorts allow guests to get involved. At Anantara Kihavah Maldives Villas 88 you can snorkel to the reef and tie on pieces of broken coral with the in-house scientists. At Vakkaru Maldives 75 (and many other resorts) you can join in reef cleanups, ridding them of debris, plastic and other rubbish. In 2018, the world's largest 3D printed reef was created at SUMMER ISLAND MALDIVES 72. Guests can plant coral on this new home for marine life, and be sent updates on its growth throughout the year.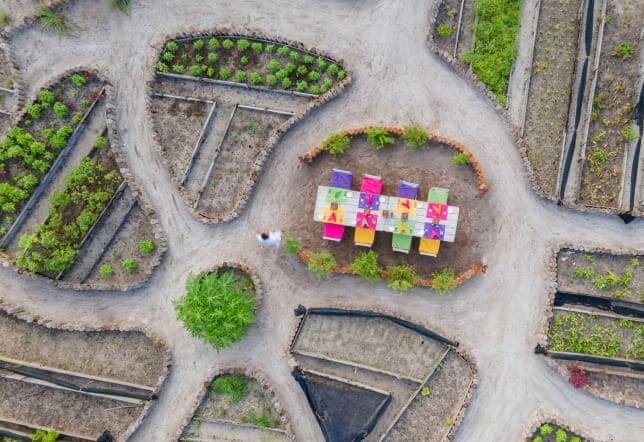 Plant-based dining in Soneva Jani's organic garden.
If you're vegan or vegetarian and heading to the Maldives then you're in luck; plant-based dining is a growing trend. The new Patina Maldives has a plant-based restaurant, Roots. Gili Lankunfushi offers vegan cookery classes and has plant-based menus and room amenities. Soneva Jani's new food concept, So Wild, takes 90 percent of ingredients from the resort's organic garden.
Away from the high-end resorts, it's totally possible to explore the islands on a budget. Smaller hotels have air conditioned rooms for a little as $150 per night. Cocogiri in Vaavu Atoll has beach villas from $178 per person per night. Kuramathi on Rasdhoo Atoll has water villas from $248 per night.
Another way to see the Maldives on a budget is to avoid resorts altogether. Most are built on privately-owned islands but many local islands can be reached by speedboat or ferry, where you'll find guest houses and homestays in small towns and fishing villages. Connecting with local people and putting money back into the economy are also ways to reduce your impact in the Maldives.