According to some legends the iconic eating style of Spain originated in the south of the country where a crusty slice of bread was placed on top of your beer or wine to keep the flies out. The term tapa comes from the verb tapar, which literally means to cover, so this has us convinced! This tradition later included topping the bread with a paper thin slice of jamon or rubbing it with tomato and drenching it in olive oil.
This is a custom that the south of Spain takes more seriously – in fact, it's pure luck when you're given a tapa with a drink in Madrid! So, you will typically need to order a portion or two from the menu which is often standing up on bar counters or scrawled on a chalkboard behind the counter. First, let's go through the lingo you'll need to know.
Tapa is a single portion and is a great way to taste your way through the many flavors of the city. For a long Spanish night of tapas as dinner, I suggest having two to three tapas with each glass of wine to make sure you can keep pace with the locals and end your night as the sun comes up!
A ración (ration) is meant for sharing and will usually serve two to three people, though if you're having them as dinner plan to order one for each person in the group plus one. So a party of three would order four raciónes and this would be a very good start.
A plato is the main plate. If you find something you truly love then go ahead and order the full plate—it's common to share this size dish among friends and family, too. Depending on the restaurant, some foods like paella are made-to-order only so you would need to order a full portion to try it.
Don't worry about a floor littered with toothpicks, napkins, and olive pits. It's a traditional marketing method used by many bars. Depending on the bar, you too can feel free to toss your trash on the floor as you leave so clients know the place is well-loved and often visited, but make sure it's the bar's custom as some high-end places frown on this in favor of keeping the chic vibe.
What to eat, where to eat it
Some of the best bars simply won't have a menu in English—or a menu at all—but don't let this dissuade you from walking in and trying some of the best delicacies. Those without menus will have the tapas displayed in their cold case on the bar, just point to what you'd like, order your drink and post up at a table like you own the place. There are some things that you really should try while in Madrid and topping that list is a deep-fried and delicious serving of patatas bravas.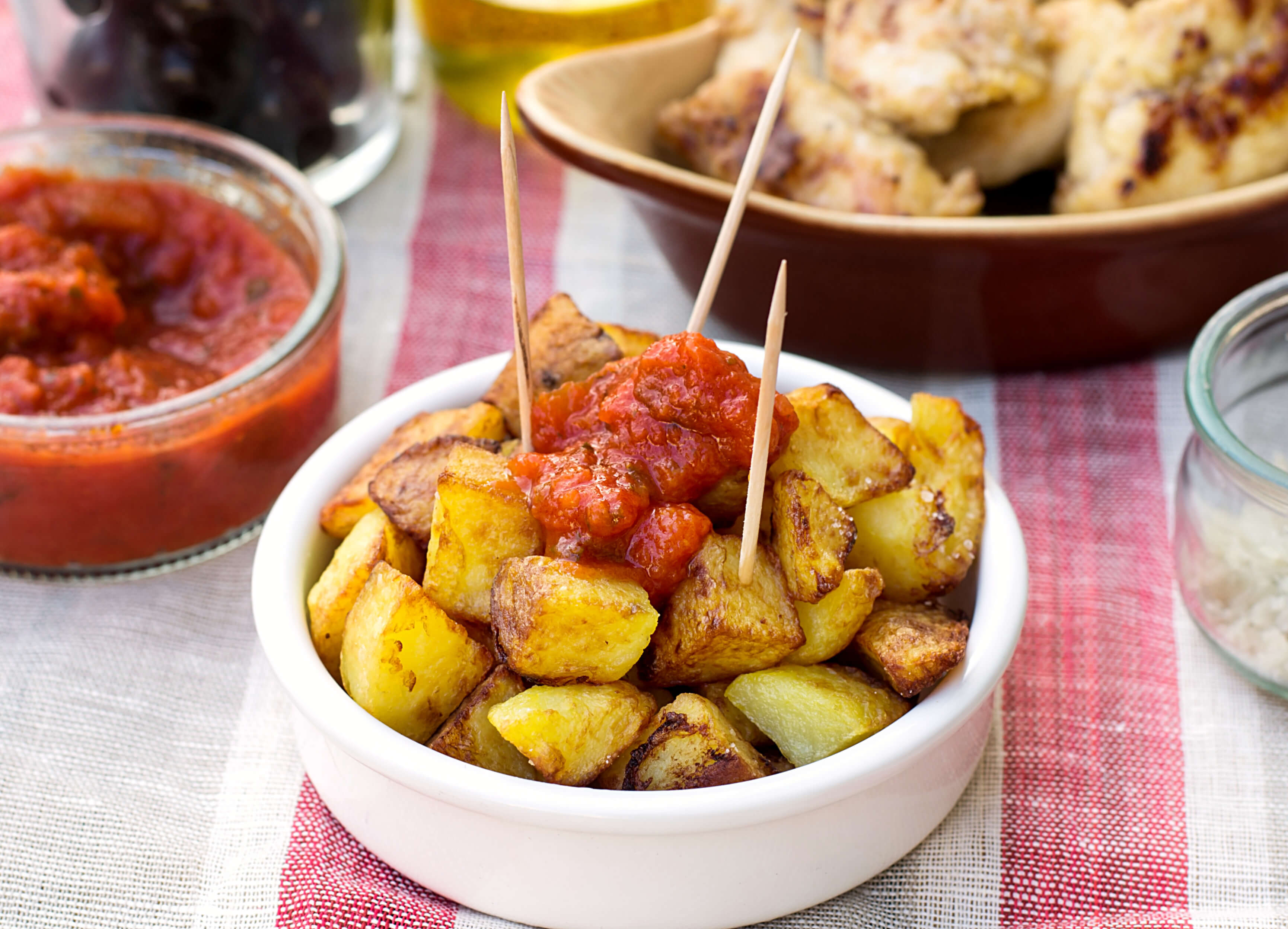 Oh man. Crunchy on the outside, soft on the inside, covered in aioli and bravas sauce (like a creamy yet slightly spicy ketchup) patatas bravas are served with a toothpick and are best with beer. Enjoy a tapa-sized serving at first because they are quite filling, and there's more on the list to try! A guilty pleasure for patatas bravas is El Tigre bar which fills up with bargain-hunting locals and expats alike. It's one of the places in Madrid where tapas are given free with each purchase, so enjoy this southern hospitality, but save room for more bars.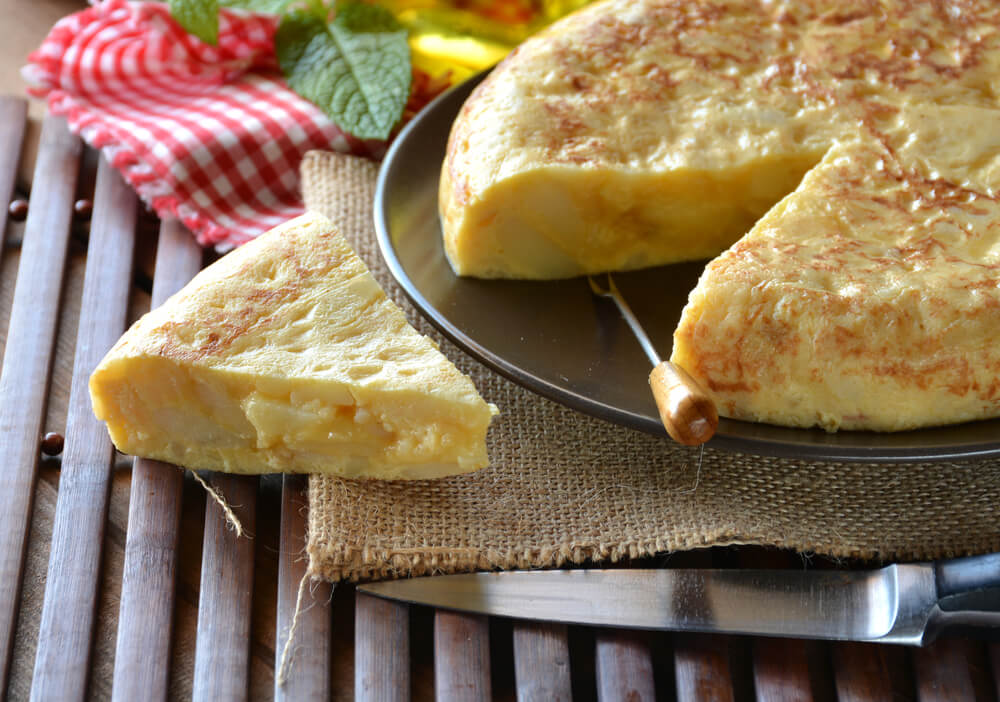 Bar Cerveriz holds the current title for best tortilla de patata in Madrid. This is a small family-run bar across the main entry of the Mercado de San Miguel. This humble interior boasts several awards hung on the wall though nothing else about the decor would tip you off that you're in the presence of incredible food. Order a slice of tortilla, which is like a potato frittata only much more delicious, and try a glass of Asturian cider to wash it down. Notice how they pour the cider from over a meter high to aerate it and add a nice frothy head. Now this is Madrid.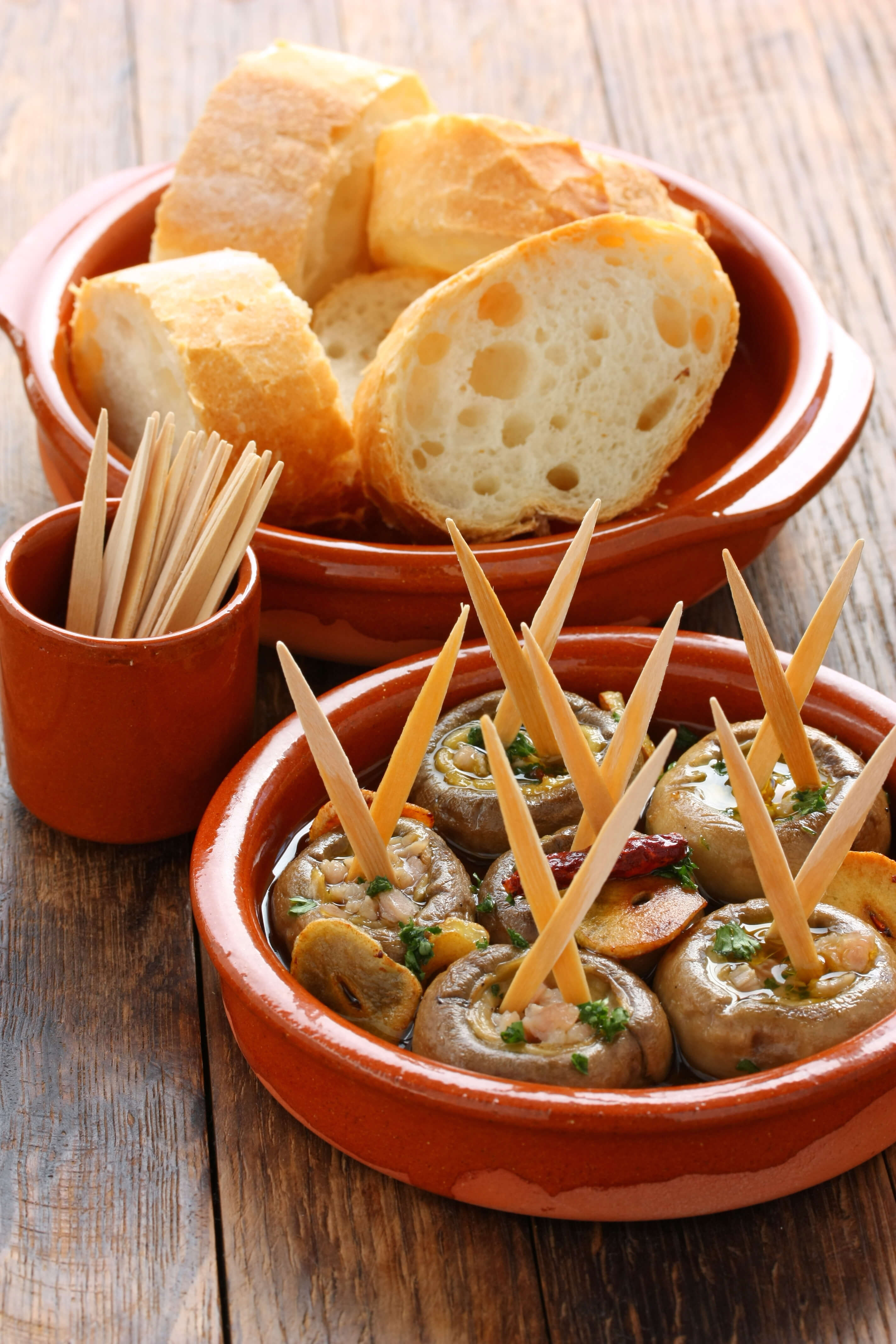 Few things are as delicious as freshly grilled button mushrooms marinated in garlic olive oil. Calle Cava de San Miguel number 17 holds the ticket to some of the best fungi in the city at Mesón del Champiñón. Tuck into this tiny space and snag a barstool if one's available. On this street, you will find several little taverns that specialize in one thing, and take it to the limit. Next door the Mesón del Boquerón serves vinegar and garlic anchovies day and night to their adoring public.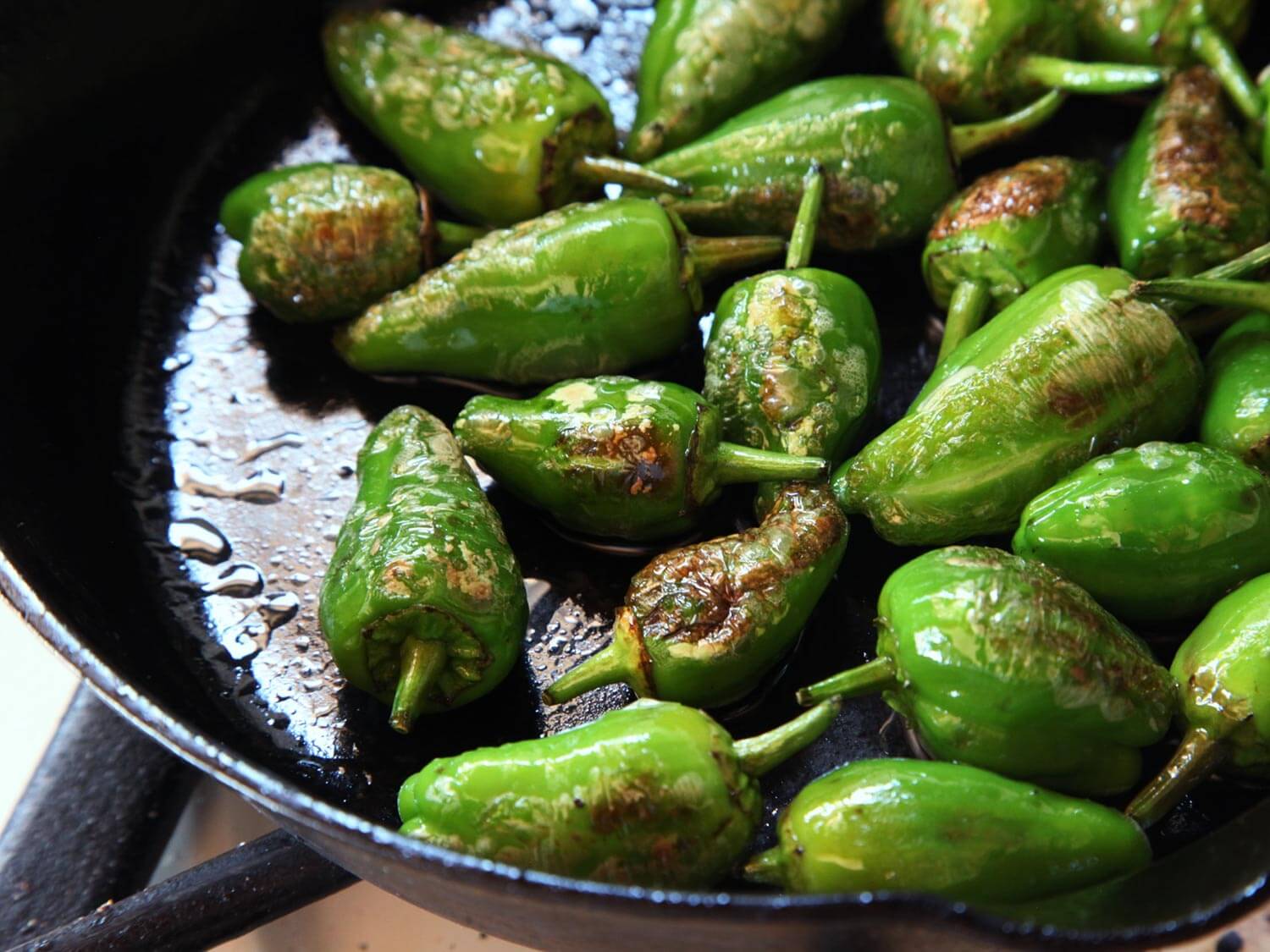 Small, wrinkly, and oftentimes charred to a nearly black perfection, pimientos de Padrón have worked their way onto most tapas menus and into the heart of the Spanish. In fact, they've even earned themselves a little rhyme, "pimientos de Padrón, unos pican, otros non."
Padrón peppers, some burn, some don't.
So take care when you're tucking into these semi-sweet chilis as one in ten will be spicy. These are frequent on the menu at La Casa Del Abuelo 76 and with good reason — they really jumpstart your appetite.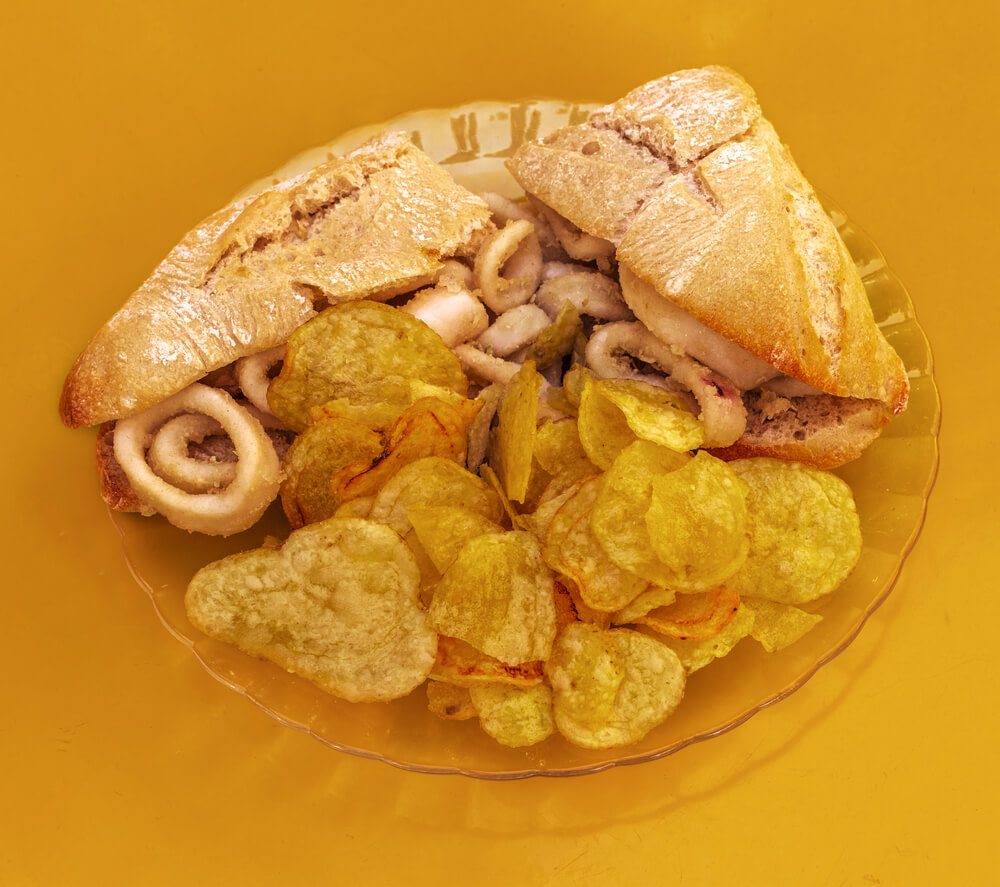 Though hours from the ocean Madrid is home to some of the best calamari in Madrid. Of course, you need to know where to find it. In the Plaza Mayor, there's a small little exit which looks like nothing more than an archway; this is actually Calle Botoneras and it is home to La Ideal, the ideal place to grab a calamari sandwich for a quick, delicious, and very filling lunch. For tapas, simply order a ration of calamari and – if your luck holds out – enjoy the scene from a table. It can be a bit tricky to get a spot inside and the incredibly low prices draw locals by the hundreds per hour.
Something for your sweet tooth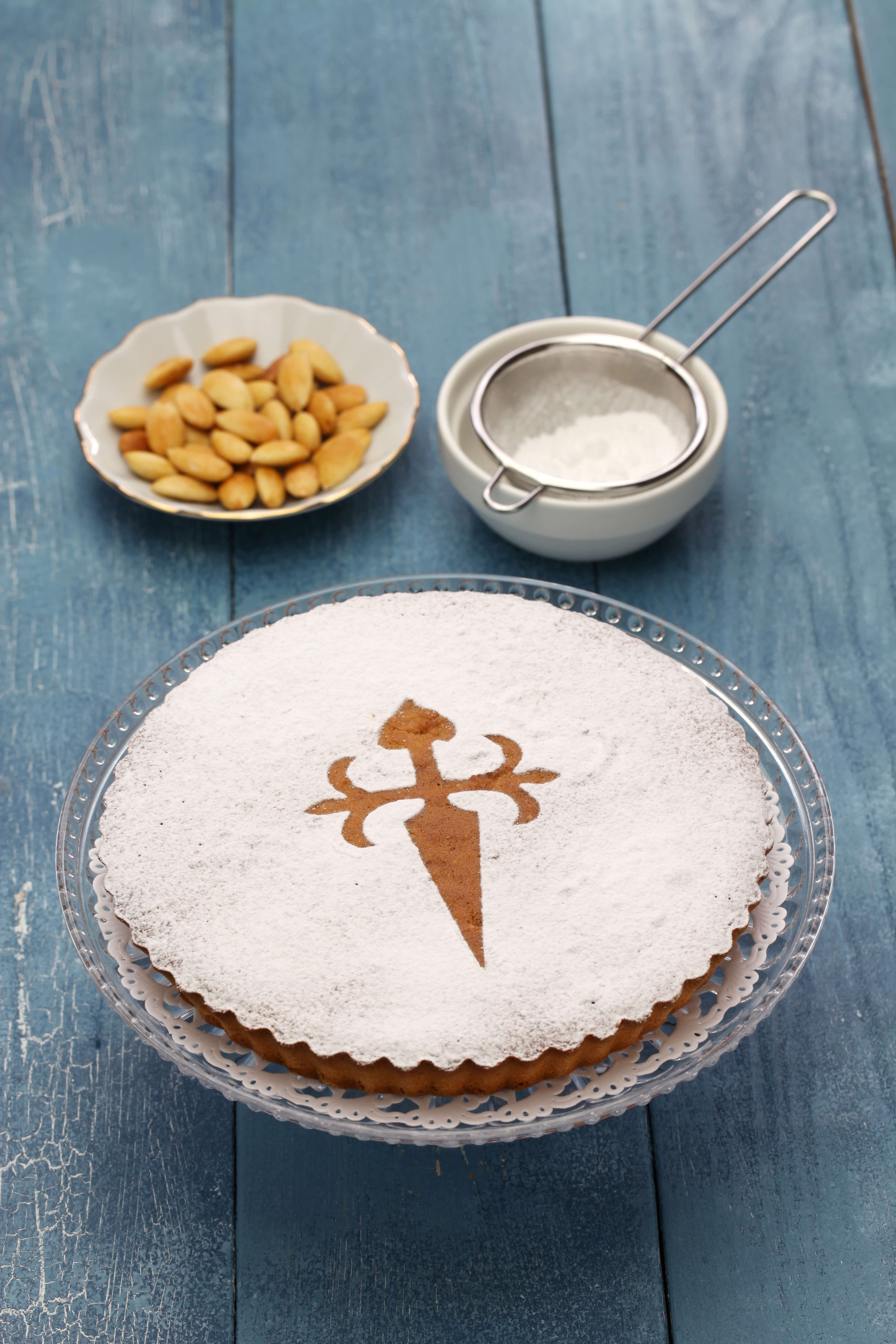 For a sweet end to any evening stop for one last drink at Casa Lucio 85 and order a bottle of Spain's claim to sparkling wine fame, cava. Enjoy Raventós i Blanc Brut Nature Gran Reserva with a slice of the traditional tarta de santiago, an almond cake, that hails from Santiago de Compostela.
Pst, you can enjoy a little tapa for breakfast, too. Take a page from the local's book and head to La Mallorquina 78 for some excellent freshly baked pastries. Don't be put off by the crowds at the bar, simply elbow your way up and order. My favorite? A napolitana de chocolate pastry and black coffee. "Una napolitana y café solo, por favor."
So go on, take a bite out of Madrid, I promise it's delicious! Buen provecho!