Last year, I spent three months living in Ubud, Bali and loved every minute of it. While I traveled widely in Bali, I spent the majority of my time living and breathing Ubud. Unlike some of the other more touristy destinations on Bali, Ubud is a vibrant cultural hub. It is a mecca for art, yoga, shopping, fresh, organic food, and, my personal favorite, rice terraces. There is so much to do, see, and experience in Ubud, but our 72-hour guide includes my can't-miss recommendations.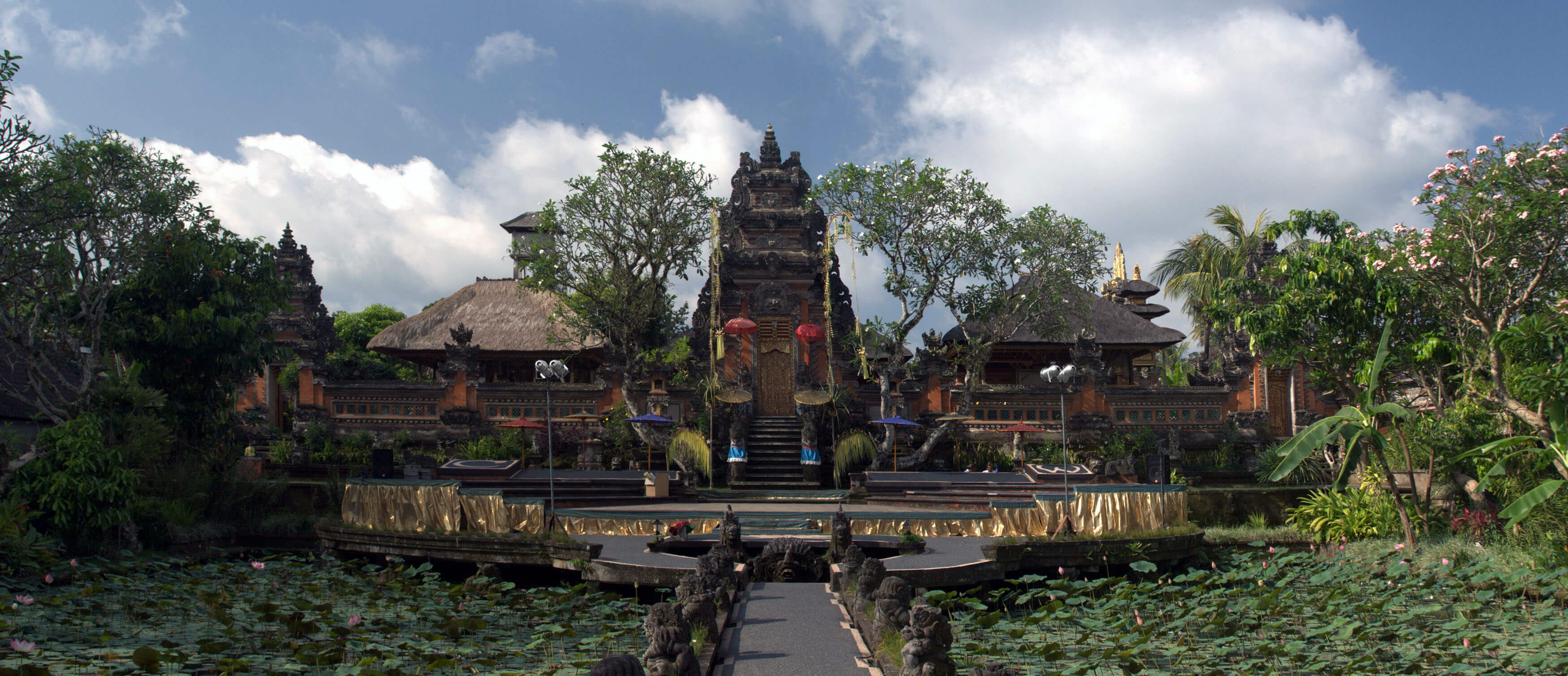 If you are staying in town, grab breakfast at Kafe 76, where I'd recommend ordering the buckwheat banana pancakes, or, if you want to eat like the locals, order the Bubur Injin, which is a black rice pudding with coconut milk and banana.
After fueling up, head out and explore the center of town. You will see and experience the culture of Bali everywhere. There are boutiques and shops, amazing restaurants and cafés. Take it all in. Explore. While you are wandering, you must stop at the following three places.
The first is Ubud Market, which is a market where locals shop for fresh fruits and vegetables but also attracts tourists with locally-made goods.
Next, check out Pura Saraswati, also known as the Lotus temple, as there are large lotus ponds right in front of the temple. The Saraswati temple is breathtaking with elaborate carvings that honor the goddess Saraswati known to be the goddess of wisdom and the arts. There are also regular dance performances by night at the temple.
Finally, don't miss Ubud Palace, which, similar to the Lotus temple, underscores the intricate craftsmanship of traditional Balinese style.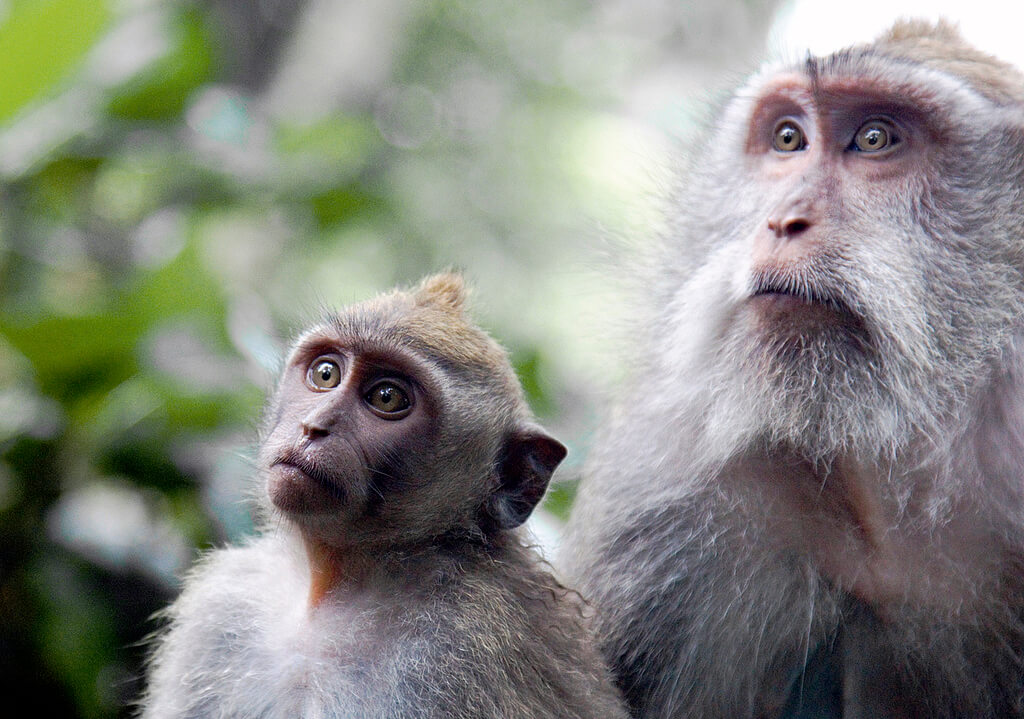 Take a break from the intense heat with lunch at Taco Casa. While it might sound strange to eat Mexican food in Bali, this place is a favorite of mine, probably my most-frequented place during my time there. I highly recommend the vegetarian eight-layer burrito bowl, and I'm not even vegetarian. To drink, don't miss the orange lime mint ginger soda.
After lunch, head to the Sacred Monkey Forest. You can't go to Ubud without stopping by Monkey Forest. As the name suggests, monkeys are everywhere, and, yes, they will jump or climb on you. Don't be afraid, but be aware that they will try to grab anything off your body, like hats or sunglasses, and, of course, any food or drink in your hand or even relatively accessible in your bag.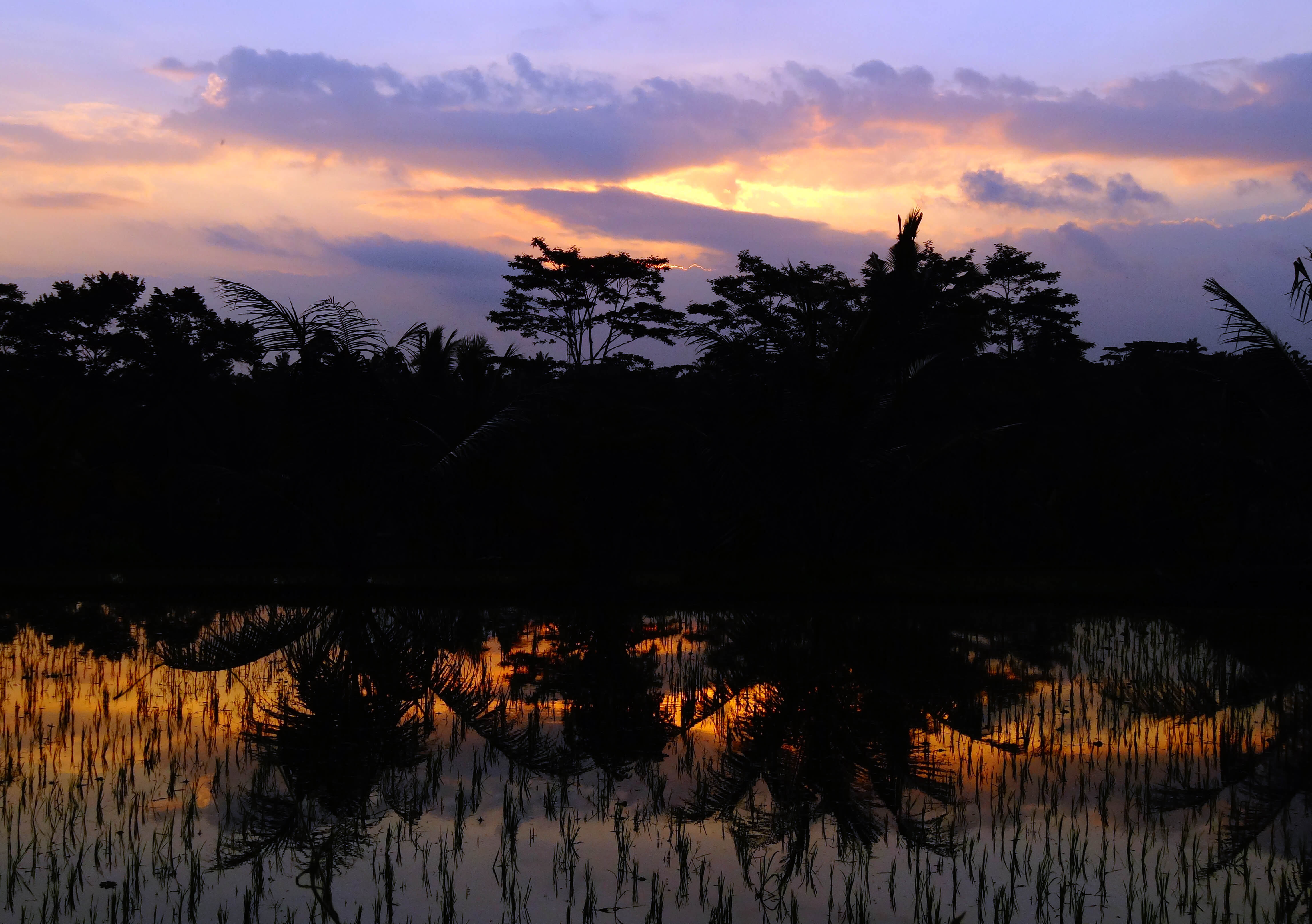 A perfect evening in Ubud is watching the sun set over the iconic rice fields. Is there anything better than that? Yes, enjoying dinner while watching the sun set over the rice fields. Do this at Sari Organik 81. Their food is locally sourced at an organic farm across the road. I am a big fan of their fried rice with chicken.
While it is a little difficult to find, as cars aren't allowed to drive up to it, you can either take a scooter along the narrow path (don't do this unless you are confident in your scooter-driving skills) or you can find the wooden sign along the main road and then walk along the rice fields and lovely bungalows until you reach the restaurant. If you get lost, just ask around and someone will point you in the right direction. The Balinese people are extremely friendly and helpful.
After dinner, head to Laughing Buddha for drinks, live music, and dancing.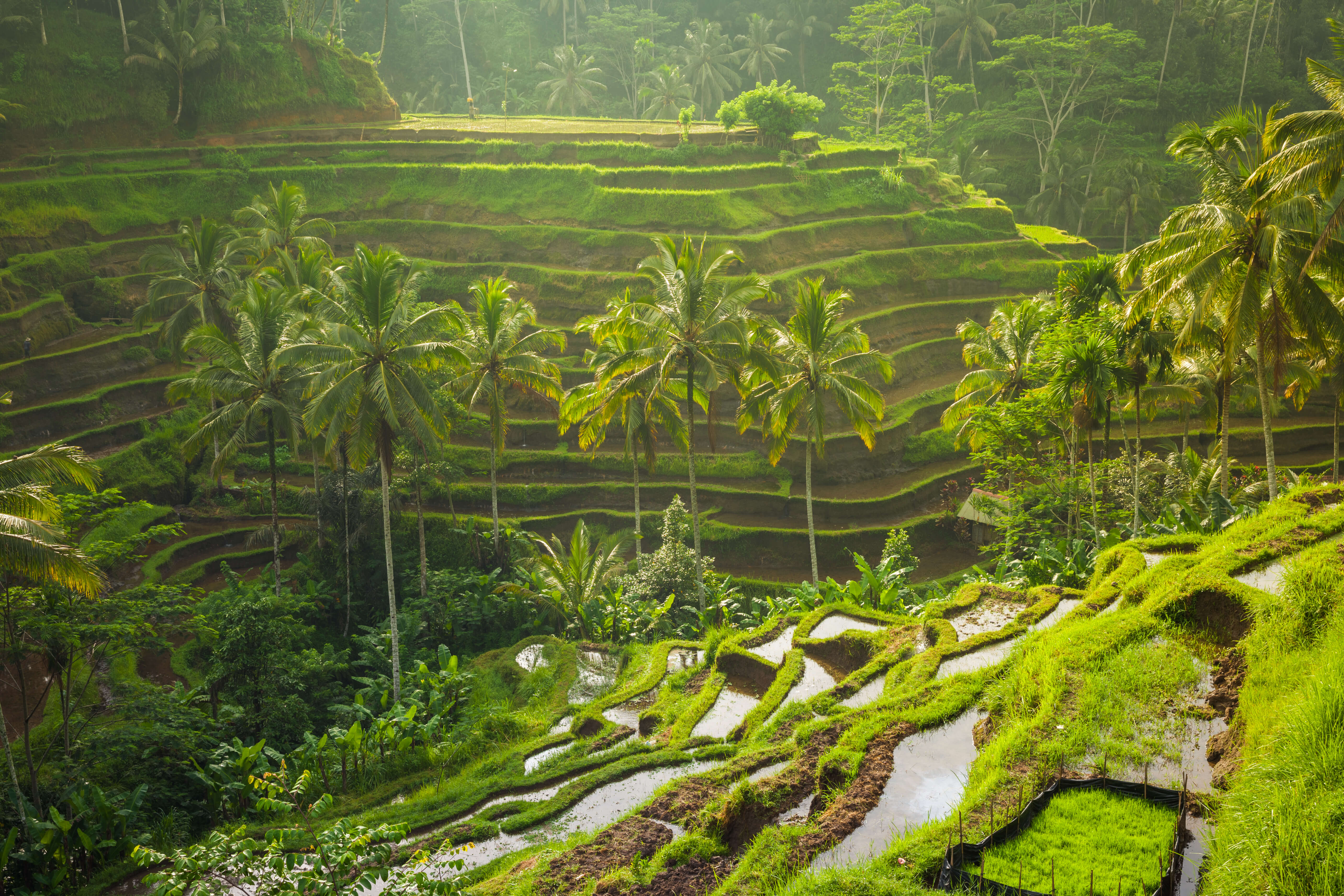 Rent a scooter and head over to Clear Café for breakfast. They have unique coffee drinks (such as mint or coconut lattes), and all of the food on their menu is not only organic but incredibly delicious. I also highly recommend trying one of their tonics or elixirs. Also, while you dine, you'll be staring at one of Bali's many temples.
After you've nourished your body, cruise over to the Tegalalang Rice Terraces. Photos don't do it justice. Rice terraces are quintessential Bali and are a prominent part of the scenery around the island, especially in Ubud. The Balinese have developed an impressive and complex system of terraced rice fields as the steep terrain precludes the use of the traditional wet farming style to grow rice.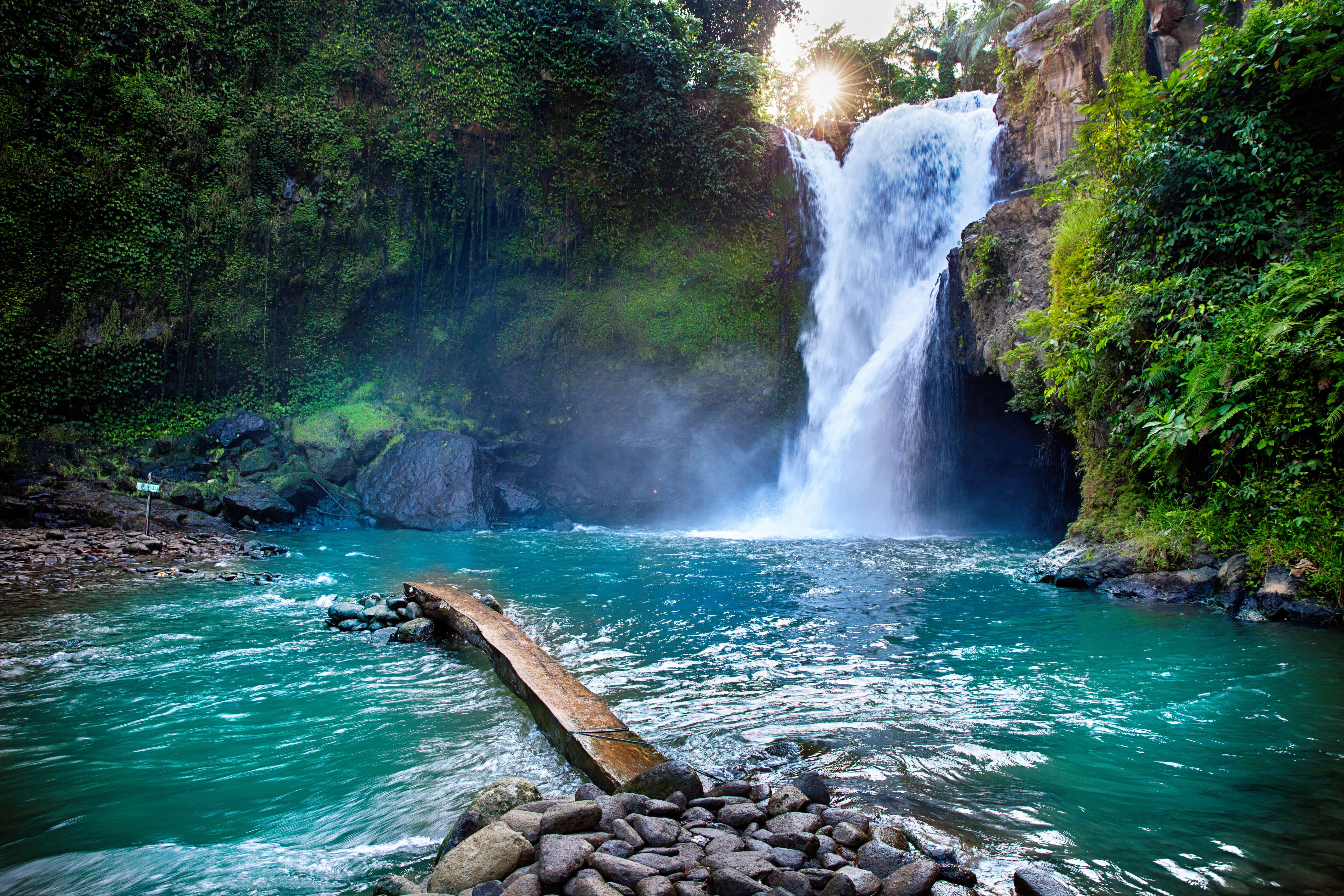 Head back to the center of town and visit Dewa Warung for lunch. It's a small spot in the midst of a busy street of other restaurants and shops. It doesn't appear particularly attractive from the outside, but locals love it. Try the avocado salad and the soto ayam.
After lunch, put on your swimsuit, jump on your scooter, and go to the Tegenungan Waterfall. This place is not just for tourists. You will see an abundance of locals here as well, especially on the weekends. You will have to descend (and then later ascend) a long staircase and then walk along the river to get to the waterfall, so some physical dexterity is required for this excursion. But it's worth it for the photo opp, and of course cooling off with a swim under the falls.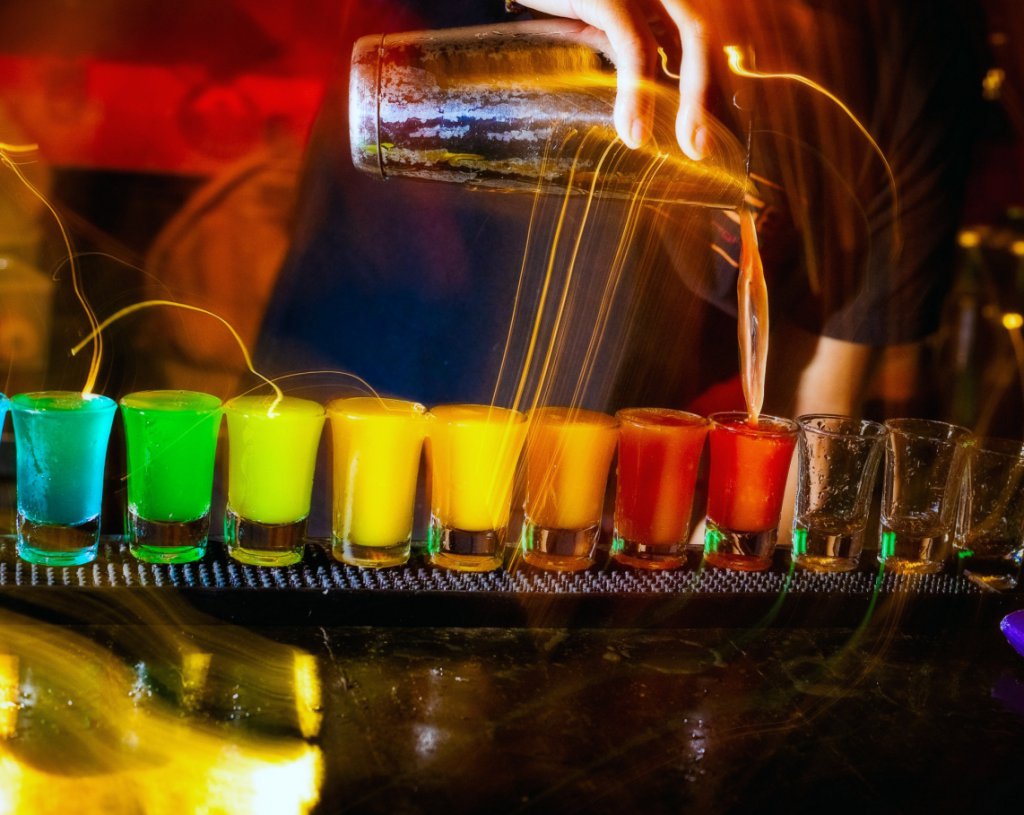 Dinner at Naughty Nuri's Warung and Grill 79 is a must and, it should be noted, is Anthony Bourdain approved and recommended. It's a popular spot for tourists and locals alike, so plan on waiting for a table.
If it's a Friday night, head to the Yoga Barn for Ecstatic Dance. This is a dance party with a DJ, but no one is allowed to speak to each other. You are encouraged to feel the music and let your body move. It may take you out of your comfort zone, but it's a great way to meet other travelers and have an experience unlike anything you've done before.
If that's too far outside of your comfort zone, an alternative is to have drinks and listen to live music at CP Lounge. Their strawberry sensation cocktail is amazing.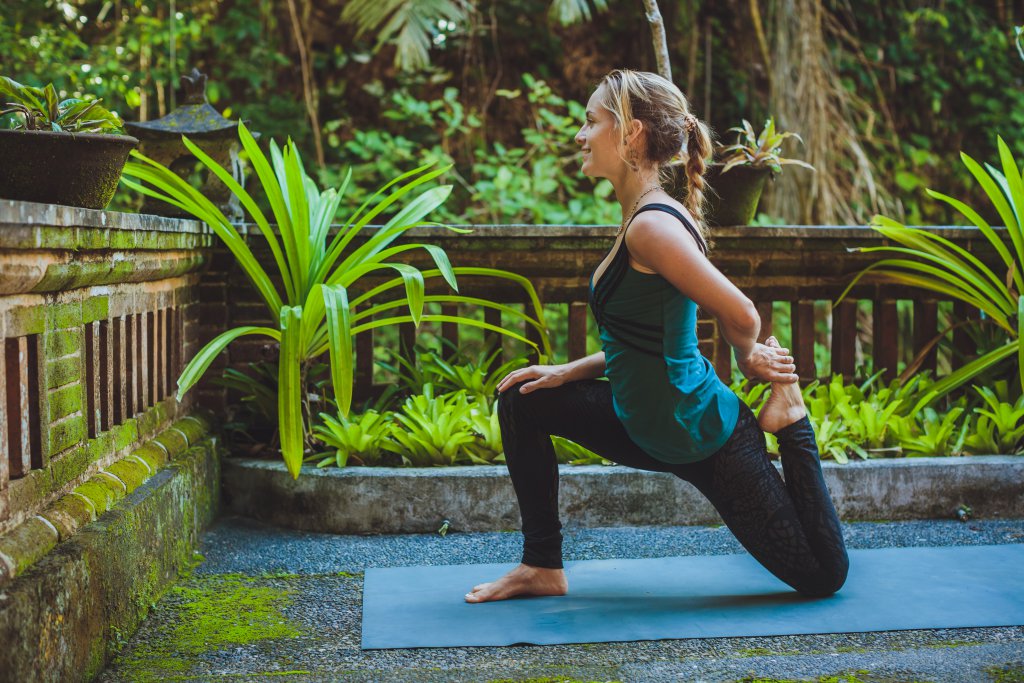 Another day, another rice field. Trust me, you won't be sick of dining with a view. At The Elephant, you'll find both an incredible view and healthy, delicious, sustainable food.
Then, head back to the Yoga Barn for a morning yoga session. Yoga is one of the primary draws to visiting Ubud, even if you don't practice regularly (I don't), so it's worth checking out, if only for the experience.
Afterwards, go next door and have a massage. Bali is a premier destination for massages as they are very economical, costing on average between $7 and $10 for an hour.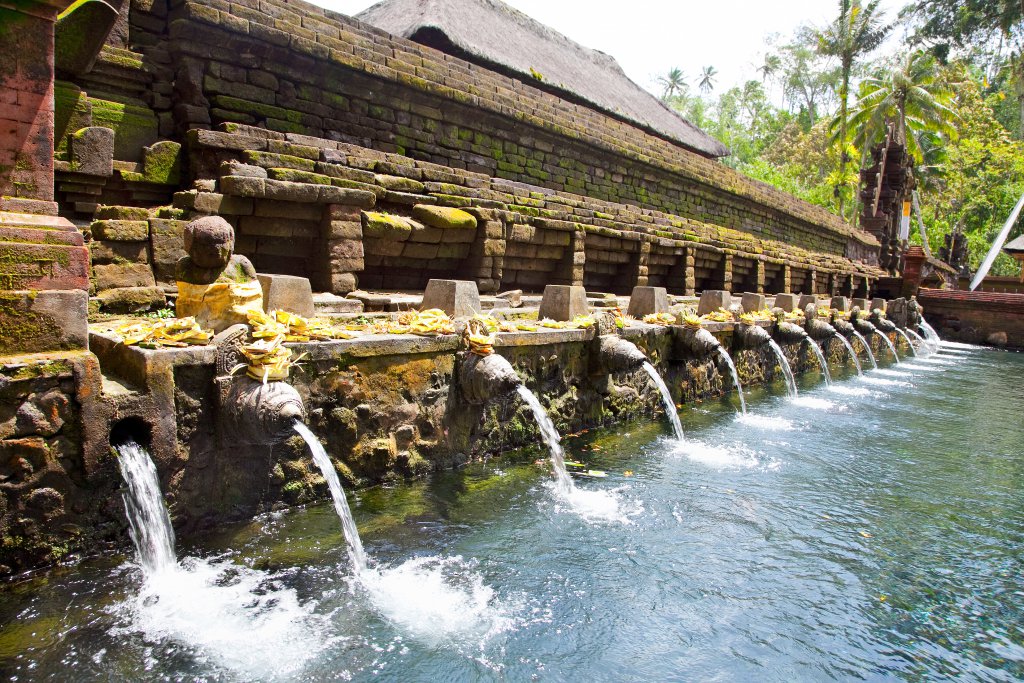 Have lunch at a quaint, local place called Bubu Warung. Most everything on the menu is delicious, but, in particular, I highly recommend the chicken curry. Also, the staff is wonderful.
Then, jump back on your scooter and head a little out of town to Tirta Empul Temple 88, which is a traditional Balinese water temple. Locals go here for purification which is done by standing under a series of water spouts in one of two large pools. Also, be sure to walk around the grounds and see the temples.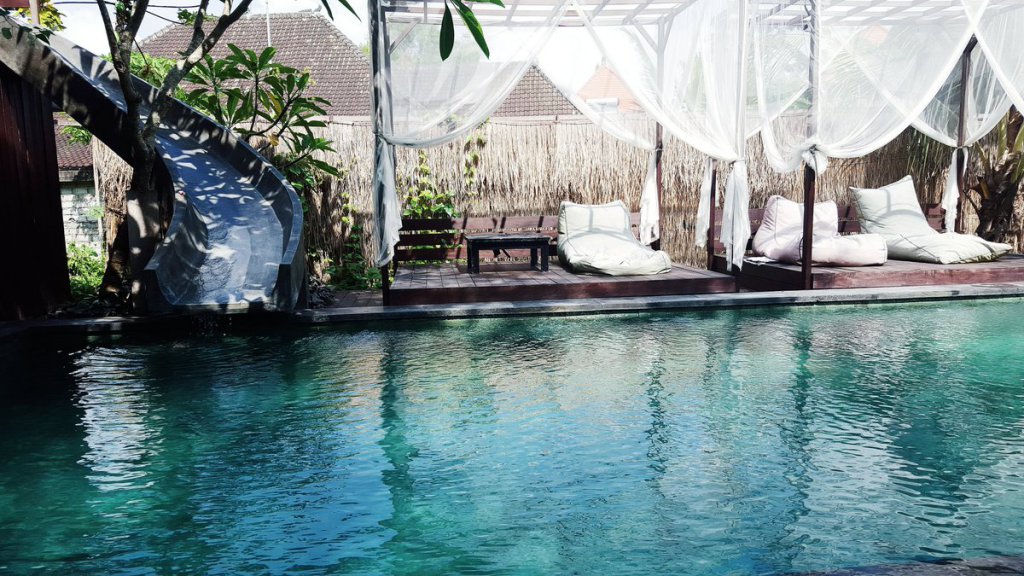 For your last evening in Ubud, I would highly recommend rendang, a local marinated meat dish (but vegetarian options are available too) at Waroeng Bernadette. It is located on a street with lots of shopping and other restaurants, which can serve as a relaxing pre-dinner activity.
After dinner, stop by The Onion Collective, which is a unique space that includes living accommodations, a co-working space, a pool, and regular evening entertainment. They host a flea market with locally-made goods and often an artist who does pencil sketches, open mic nights, and live bands (the owner, Mark, often plays with his band). The staff is incredibly personable, and the food is great as well.