After the tribulations of this year, who doesn't want to relax, get outdoors and rejuvenate? Enter Colorado, with an antidote for the mind, body, and soul: hot springs.
Famous for their immune and respiratory system boosting powers, hot springs were considered sacred by the indigenous people of Colorado, who would travel for days to soak in them.
Hike a mountain to the remotest ones, or socially distance in one of the large, outdoor complexes in the State's small towns.
Glenwood Hot Springs Pool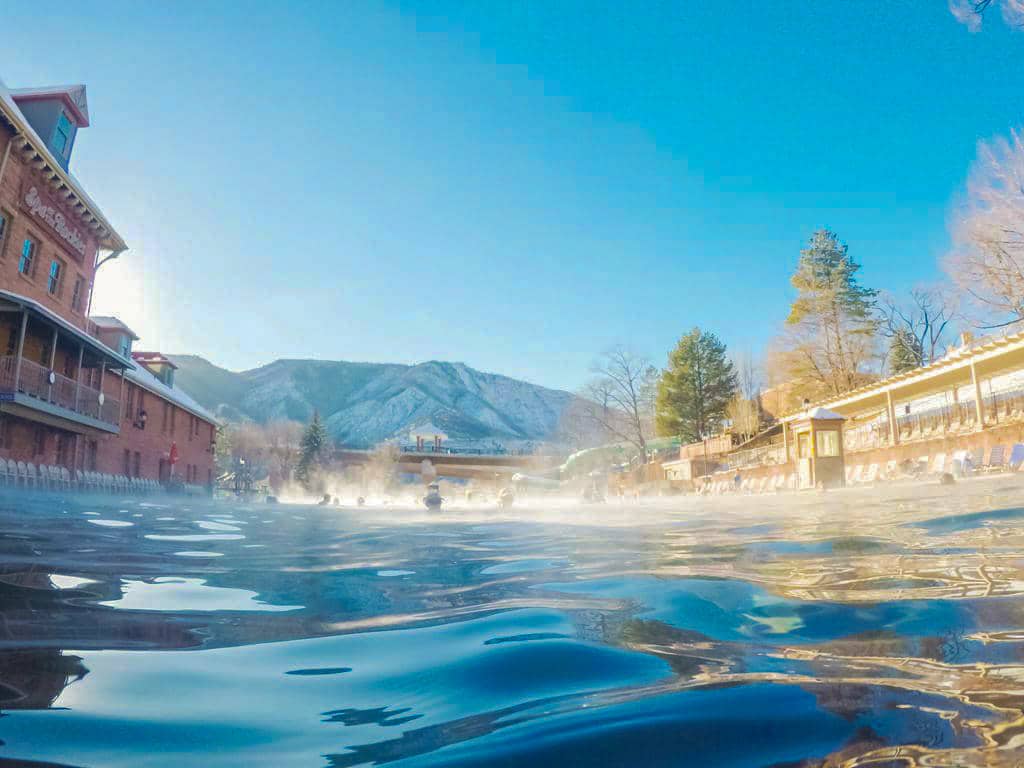 Called "Yampah" which means "Big Medicine" by the Ute people, Glenwood Springs has one of the largest hot spring pools in the world, so you can social distance while soaking up the good mojo. The 15 different minerals in the 90° F water soothe the skin, mind and body.
There is a football-field-length pool, a smaller and hotter (104° F) therapy pool, diving area, lap lanes, kiddie pool, restaurant, gym, and spa (and check out the Yampah Vapor Caves adjacent to the parking lot). Open from 9 AM to 9 PM, entry is on a first-come, first-served basis. You must wear a mask unless you are swimming.
Strawberry Park Hot Springs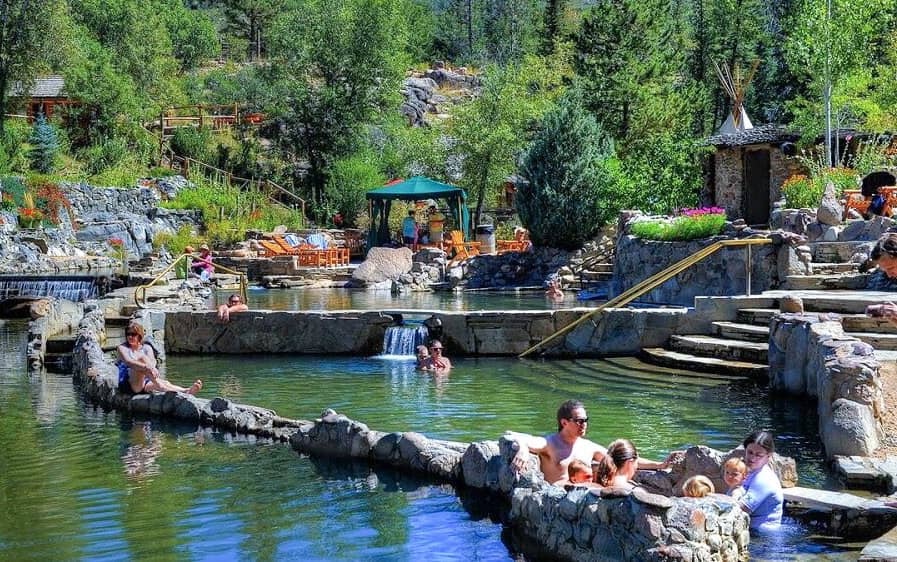 Chiseled into the side of a mountain valley, Strawberry Park Hot Springs offers multi-tiered pools of varying temperatures, healing massages and swim nights. In the day, the springs are full of families, but after sundown, it's adults-only and optional bathing suits. The pools towards the top are the hottest (102° F) and get cooler as you descend the stone steps.
To make the most of these pools, stay at Highmark Steamboat Springs by Mountain Resorts 76 or book an overnight stay in one of the cabins, covered wagons, or train caboose, which are surrounded by lush forests. Reservations are required for the pools and massages. Masks must be worn any time you are not in the water.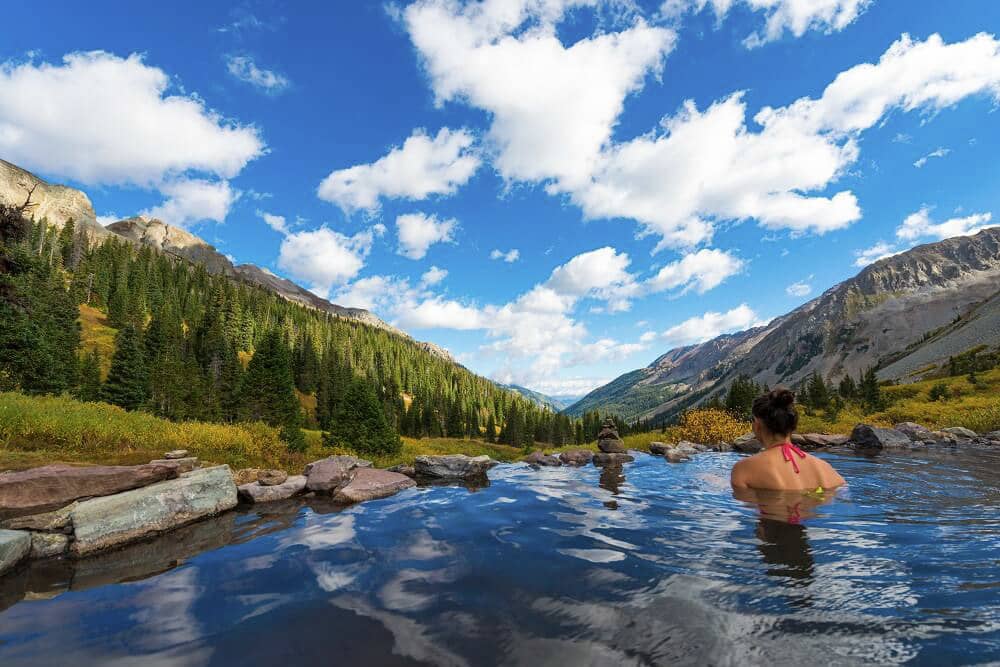 Accessible only by hiking the 18-mile Conundrum Creek Trail in White Forest National Park, Conundrum is one of Colorado's most remote hot springs. Aspen groves, pine trees, creeks, and a waterfall greet you along the path as you ascend 2,792 FT to rustic stone-lined pools. The largest one seats about 15 people and has a 360-degree view of the surrounding valley.
Although the trailhead is only seven miles from Aspen, the vibe here is very different – more hippie than posh. Most visitors choose to stay overnight at the tent camping site, for which you'll need to get a permit in advance. If camping isn't for you, consider staying at the Aspen Mountain Lodge 71. With an early start, you can hike to the springs, spend three hours there, and hike back before dark.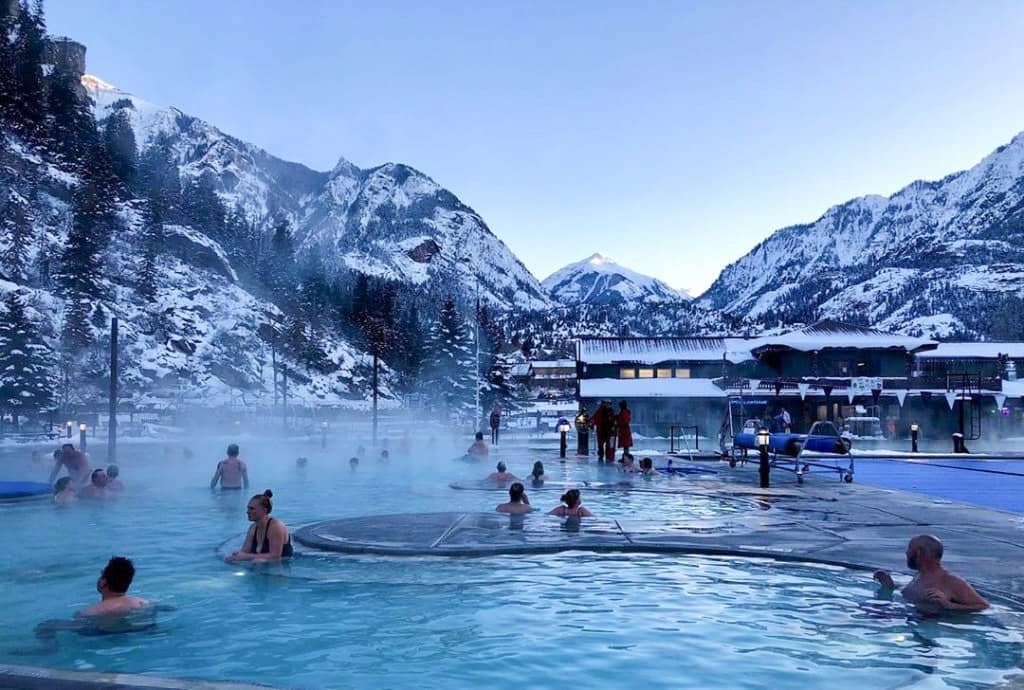 Surrounded by the snow-capped San Juan Mountains, Ouray Hot Springs were used by the native Ute people, who would trek for days to soak in the zinc and manganese-rich pools which they called "miracle waters." More a local hangout than tourist attraction, there are five geothermal pools here, a lap pool, two water slides, a volleyball court, and polar dipping pools.
There are separate areas for conversations and silence, as well as an adults-only soaking section. Famously sulfur-free, the pools maintain a temperature of 75 ° F. Masks are mandatory, except when you are in the water. Reservations are not required.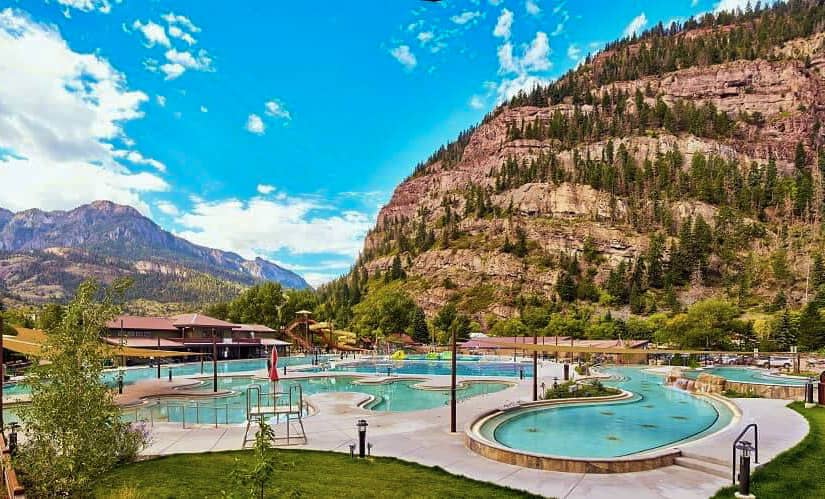 The Springs Resort and Spa in Pagosa Springs has the most geothermal-fed pools in all of Colorado (24 to be exact, along the edge of the San Juan River). Native people, the army, and even John Wayne have all soaked here. Best experienced during quiet, misty mornings, the various pools range in temperature from 83 to 114 °F. Luxuriate on the adults-only Relaxation Terrace with five pools and a fire pit, or visit the onsite spa which offers facials and massages for even deeper relaxation.
Currently, the resort is using UV light sterilization and other types of disinfectants to sanitize the surroundings, and has hired extra cleaning staff. Guests must wear masks when indoors and engaging with staff.
Christine Gilbert is a freelance travel writer from the US.