Every year for for the past 70, the Festival Fringe has filled Edinburgh's streets with innovative performances of all kinds. The Fringe, as the Scots call it, is unique because it's open to anyone with a story to tell and a venue willing to host. This format means you'll see performers from across the talent spectrum, but that's part of what makes the whole thing spectacular in the truest sense.
The Fringe always spans 25 days. This year, it's from August 4th to August 28th that performers who have put their blood, sweat, and tears into their art will take over the Scottish capital. Streets in the vicinity of the historic Royal Mile will close to traffic and bars, bookstores and storefronts will transform into stages. So also will telephone booths, the backs of cabs — at the Fringe, each nook and cranny offers a stage to every conceivable manifestation of the performing arts. Larger venues, like King's Theatre and Edinburgh International Conference Center, will host an array of scheduled events ranging from musical theatre, stand-up comedy, and children's shows, to exhibitions, cabaret, and spoken word. Underbelly, one of the Fringe's largest venue operations, also manages a number of venues cityward.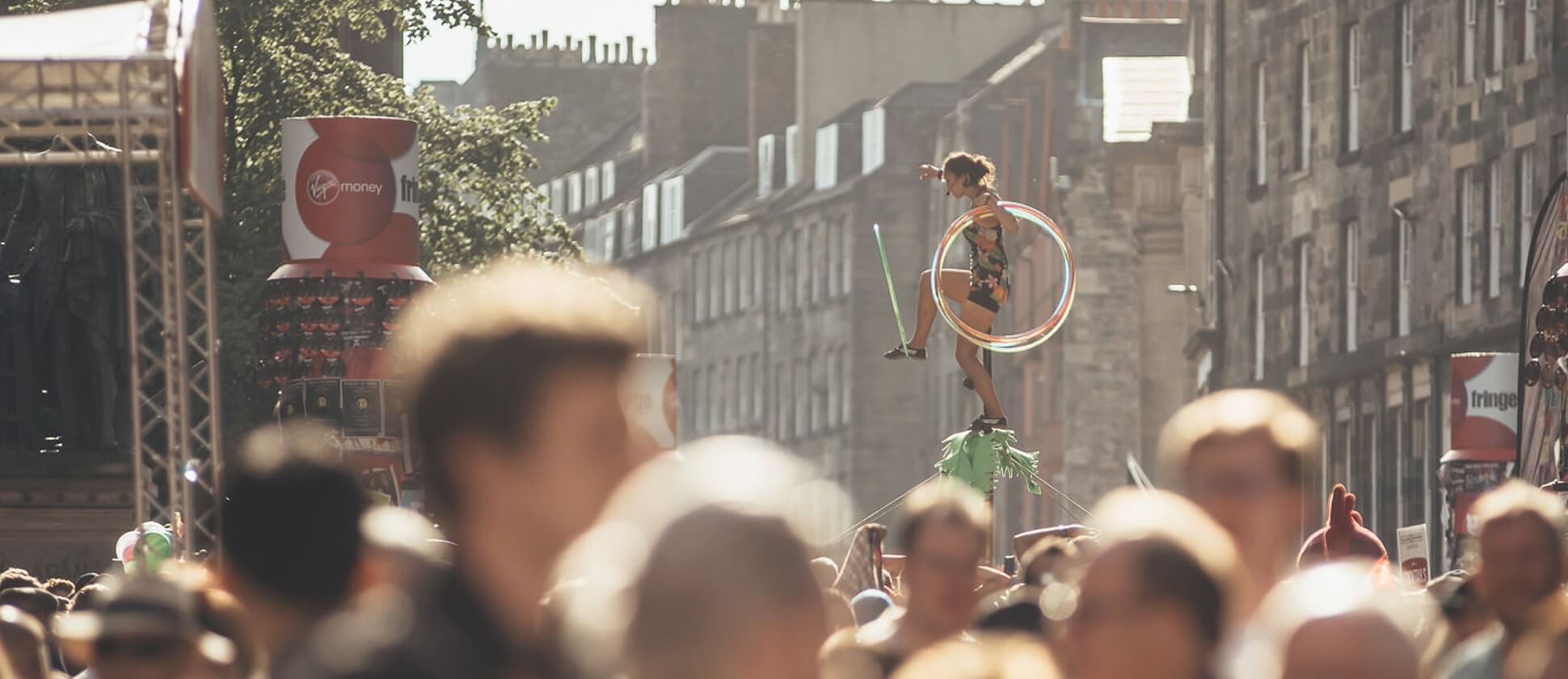 Fancy playing a role in the Fringe yourself? The organizers offer a number of helpful guides, including one for putting on a show.
For those coming to spectate, note that artists continue to book for the Fringe 2017, but many shows are already selling tickets. The full program will be available online June 7th and you can follow the Fringe on social media for updates.
You'll no doubt work up an appetite at the Fringe. There're food carts of all kinds offering everything from crêpes to kebabs and of course, to slake your thirst, there're makeshift beer gardens and pop-up bars. Culinary experiences-cum-performances like that of George Egg, comedian and "anarchist cook," have delighted in the past and promise to do so again this year.
We also recommend a handful of Edinburgh's best restaurants, most convenient to the Fringe:
The Dogs 85 offers hearty British fare at reasonable prices, aiming at a bohemian and sustainable vibe.
Ondine 79 is a top seafood restaurant not at all far from the action and one of Lonely Planet's top choices. They pride themselves on sustainable sourcing.
Hendersons Salad Table Restaurant 79 is a centrally located vegetarian go-to that's been serving up meat-free favorites since the 1960s.
The Witchery by the Castle 82 itself exudes theatricality, perfect for the Festival, with its candlelit, medievalish interior. The food is the star. On offer is "traditional/new-wave Scottish cuisine, such as rabbit stuffed with black pudding or Scottish oysters and langoustines".
The Fringe brings thousands and thousands to the Scottish capital, which means space is at a premium and it's wise to book in advance. Here are our recommendations, proximate to the Fringe's most popular venues and fit for a range of budgets.
The Balmoral Hotel 88 is a sumptuous Victorian five-star hotel, well-located in New Town, a ten minute walk from both the New Town Theatre and the Edinburgh Festival Theatre.
G&V Royal Mile Hotel Edinburgh, in old town, brought to you by Italian fashion house Missoni, meaning it's a "cool and contemporary" contrast to the more Gothic surroundings.
The Witchery by the Castle 82 not only made our restaurant list, but comes recommended as a "flamboyant and fabulously gothic bolthole," adding drama to your Fringe visit.
The Rutland Hotel 78, our top midrange pick in the area, is a stylish boutique hotel with amazing views.
Safestay Edinburgh 74 is our top choice in the budget category. Lonely Planet calls it a "bright, modern hostel that feels more like a hotel."